choose the treatment you need:
Back in 2004, doctor of nuclear physics, a specialist in the field of nanotechnology, Dov Ingman was asked by his wife "Could you invent something that will make me look younger?" 
Intrigued by aging's perennial challenge, professor Ingman, dived into the challenge of wrinkles and aging. 
Soon known dermatologists joined in and together they created Leorex cosmetics, which work on the basis of physical processes.
No other cosmetics match our effectiveness. The Leorex technology has received an international patent. 
The results exceeded all expectations. we developed skin care cosmetics for deep healing and skin rejuvenation with cutting edge technology known and used only by us, which is now sold all around the world.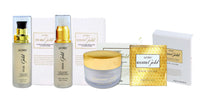 All In One 24K Gold Kit
The Leorex Gold kit has everything you need for your perfect daily routine to restore and prevent skin aging with an international patent with an immediate and long lasting effect.
Read More